Being a Blessing To Others
You might not realize it, but throughout the scriptures, the people of God are blessed so that they can be a blessing to others. We exist to overflow God's blessings to our community. 
Here at Duluth Vineyard, we rely on your generosity as we partner together to share the Gospel of Jesus, to see people transformed by God's work in their lives, and care for the community around us.
The Bible teaches us a baseline standard for giving: the tithe. When we give the first 10% of our income to the church, we put God first in our lives. Tithing is an act of worship that expresses our gratitude, faith, and love for God and others. Regular giving is also a spiritual discipline that has marked followers of Jesus since the beginning. This discipleship practice actually forms us into more generous people.
We're inviting you to be a blessing to others through your own expression of generosity!
Text Giving
If you'd like to give securely via text, send a text message that includes @vcduluth, the amount you'd like to donate, and the hashtag duluthvineyard to the phone number 52014. (Example: @vcduluth $5 #duluthvineyard). If you have any questions, contact our Business Office.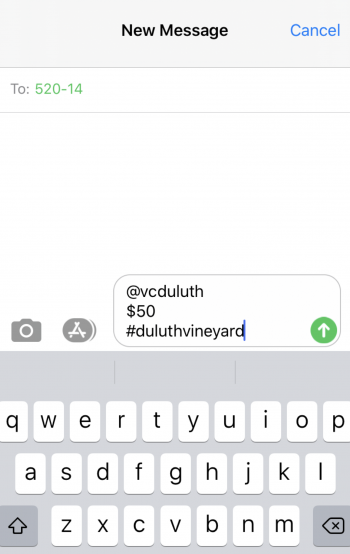 The Vineyard is a 501(c)3 not-for-profit organization and relies on your generosity as we partner together to extend the gospel in our church, our community, and our world.
The Duluth Vineyard is committed to being a generous church for our church family, generous in our community, and generous in our world for the glory of God. We want to extend God's mercy and justice into our broken world and to help people grow in a personal relationship with Jesus Christ.
How does Duluth Vineyard practice financial accountability?
Duluth Vineyard is committed to honoring God's provision by exercising wise and faithful stewardship, ethical business practices, and full accountability to ensure the financial integrity of Duluth Vineyard remains above reproach. We accomplish this through a system of internal controls, internal budgeting and reporting process, and an annual audit performed by an independent certified public accounting firm. Anyone may request a copy of Duluth Vineyard's most recently audited financial statements. Contact our Business Office or call (218) 525-3462 to ask questions about our financial practices.
Need Your Giving Statement?
You can download your giving statements in CCB
If you have any questions about your contribution statements, please contact our Business Office
at (218) 525-3462 for more information.